May 11th - 19th
Although Cemetery Week has come and gone, I am so excited to share with you some of my favorite gravestones, cemeteries, and some memories I've had at them. Admittedly, I found out about the "holiday" quite late last week, and can't find any info regarding the celebration! I hope this holiday picks up in the future, as the history of our beloved and needed cemeteries cannot be lost.
I remember the first time I was able to look at a cemetery in an entirely different view. My husband's family had gone through too many losses in a short span of time, so we had been at Green-Wood Cemetery at least every 3-5 months at one point. Incredibly heartbreaking. On the way to his family plot, we would pass a beautiful lake, and surrounding that body of water was a mausoleum that belongs to Germain Lachat. This mausoleum has the most stunning doors, that beautiful copper patina green, with a laurel wreath and upside-down torch. Almost instantaneously I fell in love. The color is so magical, and the icons are so sweet and powerful I couldn't help but feel completely taken by it! That door was meant for me when I was ready to walk through it and fall deeply for cemetery symbolism.
Navigating the new found love was easy, as I am so lucky to have a group of friends that feel the same. Kjersti (Cat Coven), Dana Glover, Kate (Arcana Obscura), Edward (Rivenbarrow Glass) and I made a trip out to Salem together and quite literally rolled around in every cemetery/graveyard we could find. Seeing the Deaths Heads in person was like seeing royalty, it was amazing! All the urns, cross bones, skulls we could ever dream of! My personal favorite that particular trip was the Burying Point cemetery, but we did visit Broad Street, Howard Street, and Ancient Burying Ground Cemeteries as well. At the Ancient Burying Ground we made an offering, and collected some grave dirt from a grave we all felt a deep connection with. All while a couple of firemen were watching us closely, and eventually asking what we were doing!! It was funny as hell, and we had an intimate moment together collecting the dirt from Anna Bartlett.
Another stone nearby stone was pretty amazing, too. Definitely one of the more ornate stones I've seen!
My favorite gravestone from the Burying Point Cemetery was this spooky dude below!
This deaths head had two cute lil skulls floating above it, with a hourglass upon its head, with a third eye! It was amazing! We had all taken a liking to this particular stone, as it was really incredible.
At the Ancient Burying Ground we came across this sad small tombstone that was a bit leaned over so you couldn't see the face, and upon further inspection it was another really incredible piece! This stone was pointed, and not only did it have crossbones on it, but a coffin! The coffin stones aren't very easy to find, and the fact that we saw this was so exciting! We saw a lot of amazing stones during this particular trip in 2018, but those were some highlights!
Fast forward to my Honeymoon in Japan October/November 2018 their grave sites are much different than ours in the states. As Buddhist practices meant the bodies were cremated and the ashes were stored at the grave site for the family to visit. In our travels to Kyoto, we saw some magnificent altars and grave sites. Here are a few:

Fushimi-Inari Taisha, the fox shrine! This shrine is known for its bold red tori gates that climb the entire mountain to the main shrine area. The swathes of crowds taking selfies overwhelmed my husband and myself, so we took a separate path that I really didn't want to go down. We found a hidden cemetery among the bamboo forests surrounding the area. It would unbelievable! It was so eerie, and quiet, it was like we had stepped into another realm.
Getting back to the main area of the shrine, there were tons of grave sites, and here are some great ones:
All over Kyoto there were moss gardens, shrines, and grave areas that were totally out of the way but we had to see. We walked along a highway to visit this particular moss garden and shrine:
In this year, 2019, I have already visited some of the most incredible cemeteries with my friends Kjersti (Cat Coven) Dana Glover, and Kate (Arcana Obscura) on our trip to Salem this past March. We were fortunate to make stops at Old Burial Hill and Mount Auburn Cemetery. Both of these locations were absolutely amazing! Old Burial Hill was the home of the celebrities of the gravestone world and was seen in Hocus Pocus, check them out!
Mount Auburn was a sprawling wonderland of gravestones and turkeys! We had gone it much deeper than we realized and stumbled upon incredible graves. It felt a lot like Green-Wood Cemetery!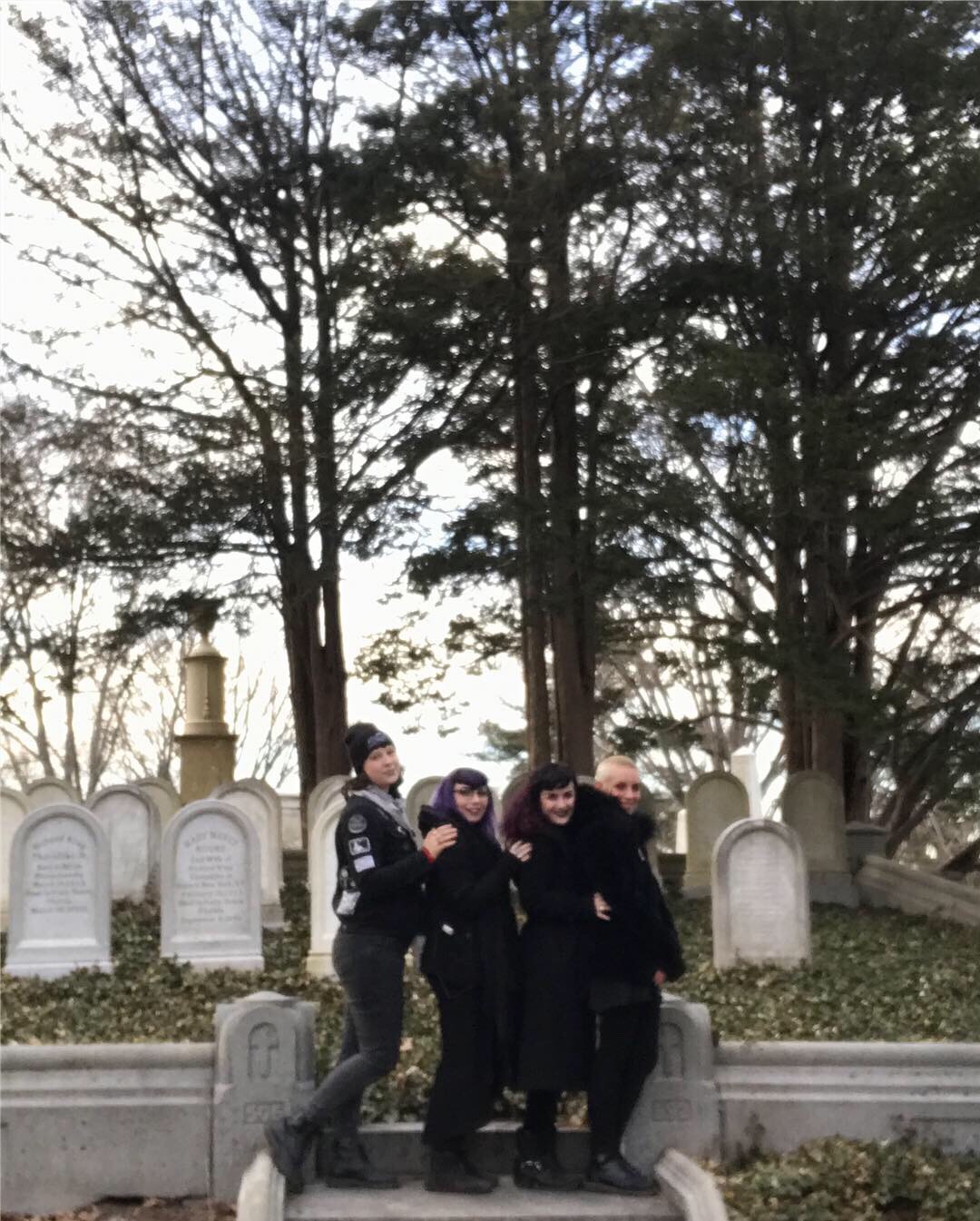 I am so fortunate to have people in my life who enjoy visiting graveyards and cemeteries with me. As it felt so taboo for so long to genuinely enjoy going, but now in my older years I've realized they're beautiful places with so much to enjoy and learn.
Also, I planned to drop a little secret here regarding future items come to the shop. I am currently working on a "Know Your Grave Symbols" collection. I plan to illustrate many of the symbols we find in cemeteries and put them together almost like a scientific illustration/poster on merchandise. Along with that, I have been working on a small book (more like a zine) of gravestone symbolism where I jump into some history of the symbols and how gravesites came together in the 17th/18th centuries in New England and the East Coast. Expect to see these (hopefully!) in the Fall!
Thanks for reading!